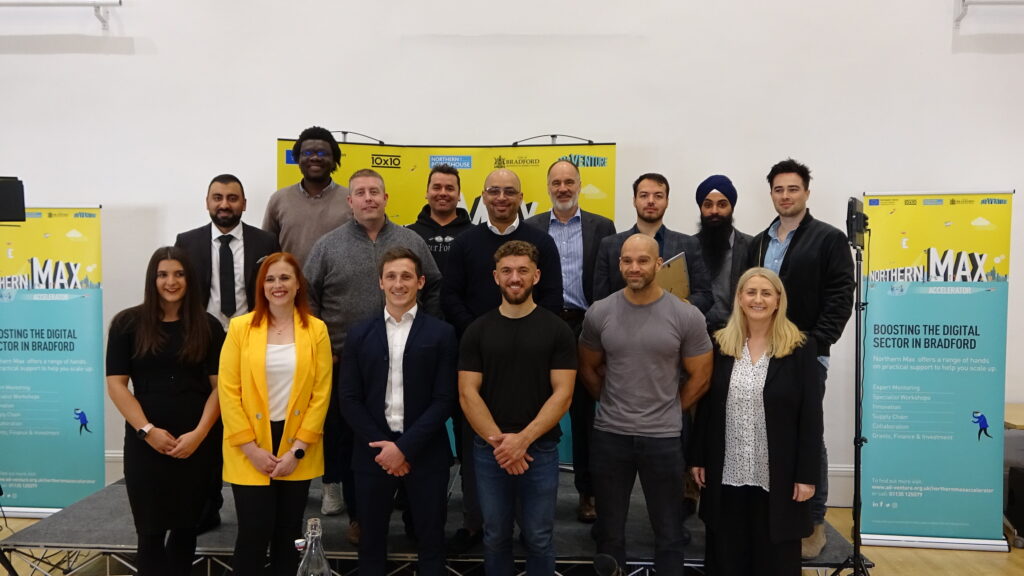 Ambitious technology orientated businesses in Bradford were offered a free support programme to help them grow.
Who took part, and what were the results?
In this blog we have a look back at the last round of The Northern Max Accelerator!
What was it?
The Northern Max Accelerator, launched in early February, was delivered through a mixture of face to face and online sessions, supporting businesses who were pre-start or less than three years old with growth ambitions.
This was the fifth time the programme has run in the city, and it always brings in an exciting and impressive set of new businesses.
Northern Max ran for ten weeks and included a range of practical support, such as specialist workshops and expert mentoring. It also provided opportunities to access funding and the chance to pitch for potential investment at the end.
The accelerator culminated in a packed out pitch final, held at Kala Sangam in Bradford.
With 14 exciting start-ups out to secure investment or raise their profile with peers and vital networks, the tension and excitement was palpable in the morning as the cohort prepare for their pitch, which will be in front of 60 people, to 4 judges and being live streamed!!

0 visual aids
3 minutes
4 judges
1 winner

This event is the culmination of 10 weeks of hard graft and looking at vital business growth topics such as business goal setting, route to market and marketing, partnerships and collaborations, the business plan and investment pitch training.
Who was it?

The team putting the business through their paces are the brilliant Greenborough Management Limited with their 10×10 programme.
In the expert hands of Michelle Davis and Russell Copley (with occasional bad dad joke from Russell, if you know, you know) the cohort pulled together and worked together to support each other as they worked their way through the challenging but rewarding programme

And here are the founders who were in the spotlight on pitching day, with links to their LinkedIn personal and company profiles if you want to check them out! (You really should)

Nick Hird , ViDrate
DEAN HODGSON, Pacer Pointer
Sophia Kupse, MBH Training Limited
Rebecca Hopwood, Youbee Media Limited
Richard Lang, Diamond Microwave Limited
Jamie Brown, @Faia Ventures Limited
Robert Hughes, Halalpal™ Limited
Ahseem Yousuf , Blurred Vision Productions
Rousel Chowdhury & Charlie Pociecha , @gyMap
Steve Harrison , Digital Discovery
Rashpal Singh Sagoo – Win More Business with Video 🎥, Axon International Coaching and Consulting
David Owumi, Qinq
Sian Purver, Crysp
Mubeen Dhori, Ecom Insider

And the 4 Judges who heard the pitches, asked some probing and difficult questions and then had to make the toughest of calls were:
Supporting all of this were a talented and supportive team of mentors, all committing their time to helping the start-ups on the programme make the most out of it.
A shout out to the mentors – We appreciate you!
Phil Fraser, Paul Dickinson, Steve Black, John Sharp, Caroline Freeman, Paul Dickinson, Fraser from Metro Bank, John Sharp, Colin Glass OBE, Zack Wragg, Anthony Akers, Fred Warner
What was the impact?
Although a lot of fun was had throughout the programme, it was also serious stuff, and the businesses gained a huge amount from the course and from each other.
A few quotes from the businesses who took part:
"The programme has allowed me to grow not only as a person, but in the world of business. Working with like-minded business and having the opportunity to soak up all the nuggets of knowledge has been brilliant. I have loved being part of the course and would love to stay involved in the programme in some aspect going forward"
"I considered the programme for a long time before and after being accepted. Thinking that a commitment of 10 weeks is a huge ask and my time could be better spend in/on my business. I decided to push through and give it a go and cannot explain how valuable the programme has been to myself and my business. I have not sat back and analysed my business as much as I have in and after these sessions since starting it 3 years ago. The networking is incredible, the diversity of businesses and businesspeople is fantastic. I feel I have made a network for life and keep in touch with the attendees even after it has finished. I am genuinely gutted that I won't be hearing any more of Russ' terrible dad jokes and watching Michelle look on in embarrassment! Great job Russ/Michelle"
"The 10×10 programme has helped me to gain clarity and confidence with my business's proposition, value and direction. The workshops took the cohort on a constructed journey that allowed us to put building blocks in place to make a more resilient business that's ready for growth. I would recommend the programme to any start-up / growing business. Thank you"
The pitch final was also recorded, and you can have a look at the winners video, and a highlight reel of the day, captured perfectly by Beam Out Studios.
Winner short 1 (0:58s):
Highlights (2:09s):
For this year, that's a wrap – The programme will be running again in early 2023, so get in touch if you think you and your businesses will benefit from taking part!